You must heard many stories about Easter Day. But I will tell you a shiny truth of Easter.
To you, Easter may be a day to celebrate Jesus' Resurrection. Or a day to decorate Easter Egg with your children. But in CSTOWN, Easter Day is an important day to make more beautiful and bling rhinestone transfers to offer more decoration to your apparel and more.
The meaning of many different customs observed during Easter Sunday have been buried with time. Their origins lie in pre-Christian religions and Christianity. All in some way or another are a "salute to spring," marking re-birth.
People celebrate the holiday according to their beliefs and their religious denominations. Christians commemorate Good Friday as the day that Jesus Christ died and Easter Sunday as the day that He was resurrected. Protestant settlers brought the custom of a sunrise service, a religious gathering at dawn, to the United States.
In CSTOWN, we celebrate the holiday with high quality rhinestones, glitters, PU/PVC. Instead of the colorful foil, there is a new way to decorate your Easter. Your Easter eggs will be shiny year after year. And it wouldn't be strange even if you wear it on usual days.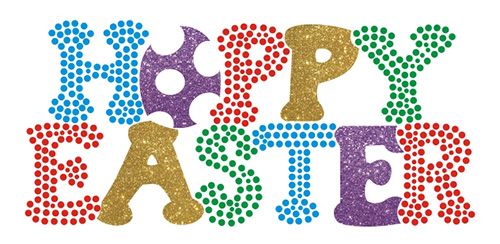 Colorful Happy Easter Iron on Glitter Rhinestone Transfer Decal
Colorful Happy Easter Iron on Glitter Rhinestone Transfer Decal combines Glitter and Chi-Korean Rhinestone together, and the letter A looks like an Easter Egg. Happy Easter, two simple words stand for CSTOWN's best wishes to our valued customers.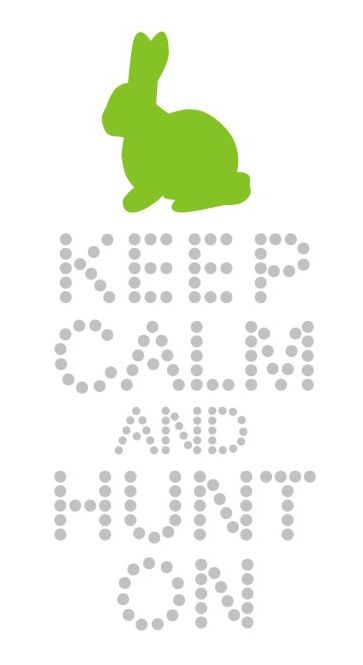 Keep Calm And Hunt On PU Easter Bunny Rhinestone Iron On
The green rabbit is made of new material PU-58, which is not bling as rhinestones but the neon color and soft feeling is welcomed by kids. The words are made of Crystal Chi-Korean Rhinestones, which is cheap and fine.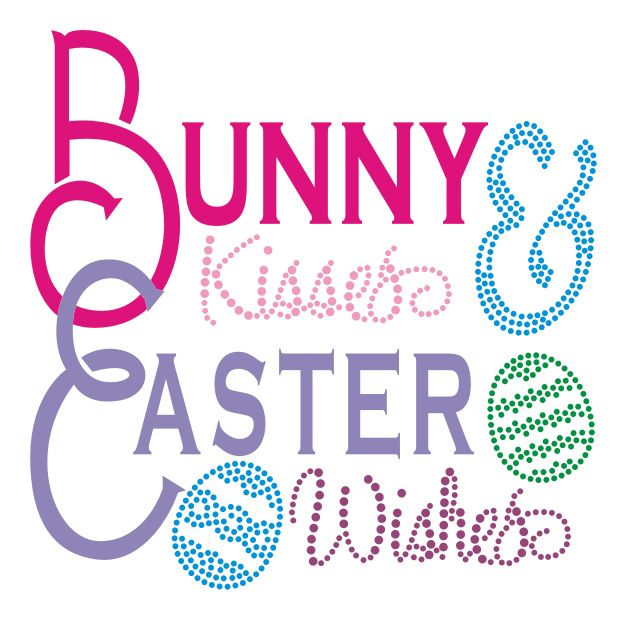 Bunny Kisses Easter Wishes Iron on Glitter Rhinestone Transfer Decal
Bunny Kisses Easter Wishes Iron on Glitter Rhinestone Transfer Decal is made of pink and light purple Glitter and light pink, light purple, green and blue rhinestones so that the transfer are colorful and brilliant. If you are a rhinestone fan like me, you must like this one.
We all know that Easter Egg Hunt is fun holiday activity for kids of all ages. The object of this Easter activity is to simply find the hidden eggs. The oldest tradition is to use dyed and painted chicken eggs or to substitute chocolate eggs wrapped in colorful foil. But it will be fashionable to decorate your Easter Egg with rhinestones.
Cute Easter Smiling Bunny Iron on Glitter Rhinestone Transfer Motif
When we talk about Easter Egg, we can't ignore the cute Easter bunny, the folkloric figure and symbol of Easter, who is bringing Easter eggs for us. The Easter is so welcome by kids that CSTOWN paints the outline of the cute bunny with rhinestone transfers. Look, the white Easter Bunny are smiling.
When you don't have enough time to paint the Easter Egg with your children, take it easy. Forget the dyestuff and the colorful foil, move your finger and click what you like in CSTOWN's website or tell us what you want for your Easter, our professional designers and sales rep will be honored to serve you.
This transfer only depicts the ear and the feet of Easter Bunny and combines the element of bowknot. Girls gonna like it much. The size is 5.1 W 6.4 H inches, which is fit for kids perfectly, by the way, for adults, you can change the size or just iron it on any place of your T-shirt. It will make your clothes more sparkling and sassy.
Be whimsical with Easter transfers from CSTOWN of sparkling, dancing bunnies and shiny flowers swaying in the wind. Happy Easter and may your Easter Basket be full of Joy, Happiness and Peace today and always!