April 17,2013
Mustache in Trend—Rhinestone mustache Transfer
Have you noticed mustache patterns here and there in the street? This year, simple-lined mustache patterns are very popular. They are appearing everywhere: printed on shirts, necklaces, hats and even finger nails. These are all informing you about the new trend—mustache patterns! Echoing this trend, the rhinestone mustache transfers are required by more and more customers.
There are generally these types of mustaches that have been converted into fashion motifs: handlebar mustache, imperial mustache and natural mustache.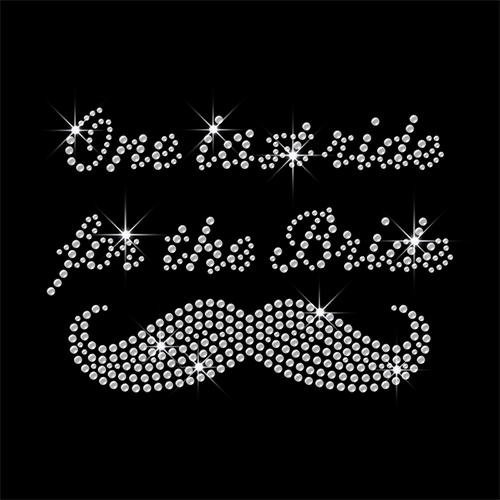 A rhinestone mustache transferred shirt can be a good birthday design for a little baby for the mature pattern accents the naïve of the little babies. Some people would like to have the mustache patterns for their dog rhinestone iron on motifs. And don't you think that a shirt with a big mustache iron on pattern is a great gift for your father on Father's Day? Try creating your own mustache designs for shirts, pockets or caps.
As for our collections, though we haven't got a particular group for mustaches, we have a very similar pattern which you can use as mustaches—the wing iron on designs.
For some small and simple designed wing patterns, they are just perfect as mustache patterns. They can be applied near the shirt collars so they make a casual t-shirt look like a formal collar shirt as well as keep the casual feeling.
Want to own your own rhinestone mustache transfer shirts? You can try online ordering service. CSTOWN offers customizing services. You just need to send us your draft design or your ideas; our designer will turn it into an iron on transfer piece for you soon. Try now!
Post a Comment
Sign up for product updates and special offers