In the United States, Independence Day (also known as the Fourth of July for the day on which it is Annually celebrated) is a national holiday that celebrates the country's declaration of independence from Great Britain. Traditionally, many people celebrate this day with picnics, parades, and fireworks, though festivities sometimes vary by state and cultures.
There are 6 ways to celebrate Independence Day in CSTOWN.
No.1 Hang an American flag. You just need to look for a place to display the flag, from your house roof, car or working building, or on a bike.
No.2 Get a copy of the Declaration of Independence and read it. Read it to kids, only about a page or two. It's one of the all time greatest documents and that makes great reading. Remember what we fought for and why it's still worth fighting for.
No.3 Watching a local 4th of July parade. Get into the parade spirit by waving back at the participants or clapping as U.S. veterans pass by. Show your support to the heroes.
No. 4 Enjoy a barbecue or a picnic with family or friends. It is good chance for us to get together and enjoy a meal. The best choice of 4th of July food consist of: hamburgers, hot dogs, American flag cake and watermelon.
No.5 Pop fireworks or attend a fireworks show. Most cities and towns provide a fireworks display of some kind. If your state is allowed to fireworks show, congratulation! If you can not enjoy the sparkle of fireworks, don't worry, CSTOWN will provide 6th way to celebrate a bling Independence Day.
No.6 Dress up patriotically and sparklingly. Someone choose to wear clothes that have the U.S. flag design on them, or choose to wear the red, white and blue. Someone even draw the flag on the cheek with washable finger paint or paint the U.S. flag on nails. CSTOWN are willing to tell you that iron on a rhinestone transfer with Independence day design is a easy, funny and cheap way to celebrate your July 4th.
Eagle is the national emblem of United States. Our designer combined eagle with American flag and described the motif with red glitter and crystal, yellow, royal blue, ruby and cosmo jet Chi-Korean Rhinestones.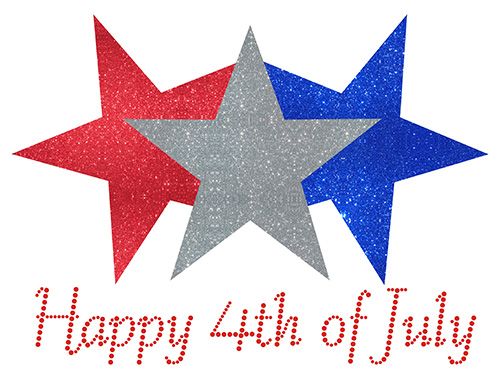 Glittering White Blue Red Stars Happy 4th of July Iron on Rhinestone Transfer Motif
We used red, silver and royal blue glitter to show the sparkle of the stars. It won't be inferior even competed with the real stars.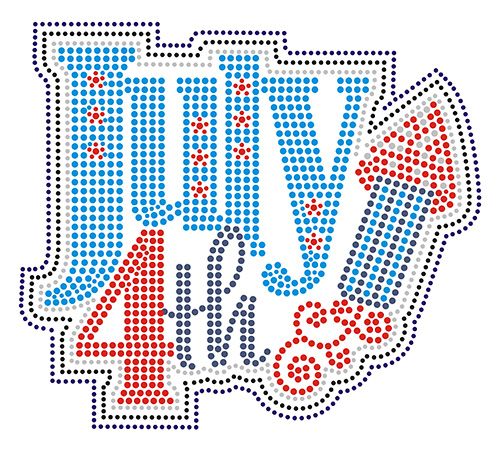 Bling July 4th with Fireworks Iron on Rhinestone Transfer Decal
IND-120 decorated the bling July 4th with fireworks graphic, mainly used ruby and teal blue, royal blue and navy blue rhinestones. Teal blue is more active, so the motif can also iron on for kids. When you enjoy firework show, there is also a little firework playing on your tees.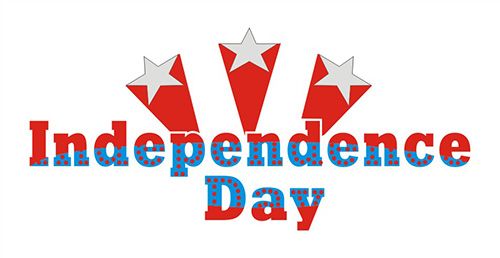 Glittering Independence Day Iron on Rhinestone Transfer Motif
Glittering Independence Day Iron on Rhinestone Transfer Motif combined red and blue glitter. The glittering layering are fashionable and flattering look. The shattered ruby rhinestones made the shiny Independence Day more lively.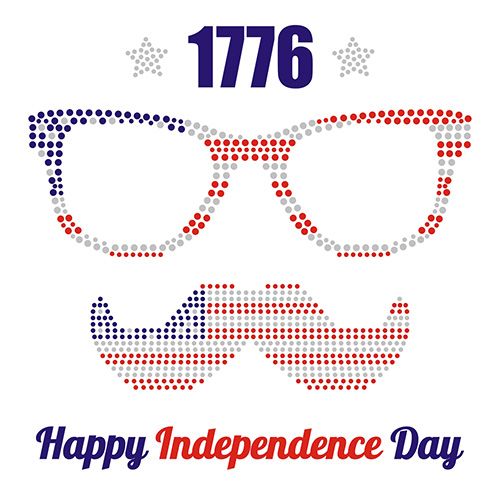 American Glasses And Beard Iron on Rhinestone Glitter Transfer Motif
Everything can be created with American Flag elements, even your glasses and your beard. Rhinestones are not girls' patent. We can also decorate men's T Shirt with these bling spirits.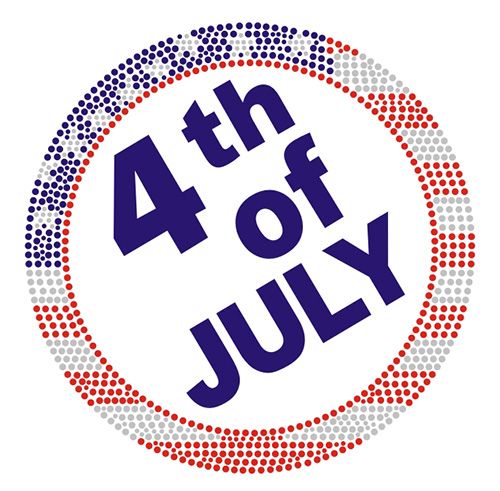 Glittering 4th of July Embedded in A Disc Iron on Rhinestone Transfer Decal
Glittering 4th of July Embedded in A Disc Iron on Rhinestone Transfer Decal is made of crystal, ruby and royal blue rhinestones and blue glitter. Every part is well designed and exquisitely made.
You may have tried the former five ways to celebrate your 4th of July. I am so glad to recommend the last way that you may get inspiration for your apparel decoration and your business. In sum, wish you all have a bling and unforgettable holiday.